Design Services
Remodel design
Typical plans include foundation, floor plan, elevations, cross sections, details, electrical plan, basic mechanical plan, and site plan.
Commercial design. I will coordinate with a registered Architect to do your commercial project design for a fraction of the cost compared to an architecture firm. I have experience doing the following:

Restaurant, office and retail tenant improvements
Multi-family townhomes ranging from duplex to six-plex.
A 177 unit condominium complex with a fitness center
A remodel addition for a church

Flyer Floor Plan. Give your Real Estate listing a competitive advantage by having an as-built floor plan drawn up to put on your flyers, website and/or yard sign. This service is

FREE

with a Seller's Pre-listing Inspection. Click on the image below to see an example.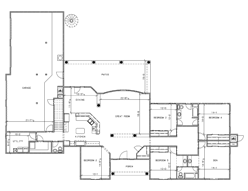 Inspection Services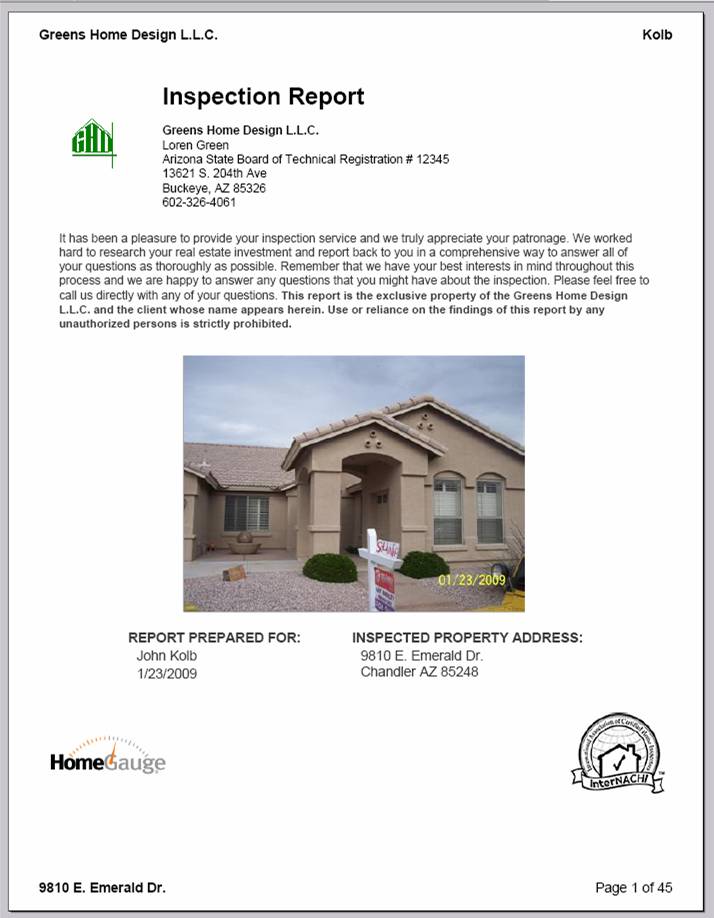 Custom Home Design:
Residential plans do not require the seal of an Architect. There are situations where a structural, civil, or electrical engineer's seal is required for residential plans. This varies from one municipality to another, depending on the size and complexity of the house. I have working relationships with all types of engineers to assist when needed. I also have a working relationship with Architects for your commercial projects. If your project is multi-family, a church, office tenant improvement, or any other commercial project, contact me. I will partner with a good Architect and manage the Engineers involved in your project.
Sometimes Home Owner's Associations require extra design items, such as massing diagrams and scale models. Each one has its own unpredictable set of requirements. I have the ability to accomplish these extra tasks, but bear in mind that they are an extra cost.
Buyer's Inspection:
As a certified InterNACHI inspector I will inspect:
Roof, Gutters, Downspouts, Vents, Flashings, and Skylights.
Siding, Flashing and Trim, Exterior Doors, Decks, Stoops,
Steps, Stairs, Porches, Railings, Eaves, Soffits, and Fascias.
Basement and Foundation
Accessible Crawl Spaces
Heating System
Central Cooling Equipment
Water Heating Equipment
Absence or lack of Insulation
Toilets, Sinks and Tubs
Showers, Fixtures and Faucets
Visible Fuel Storage Systems
Sump Pumps
Plumbing Leaks
Main Fuel Shut-Off Valves
Service Line and Meter Box
Main Service Disconnect Panels, Breakers and Fuses
Overload Circuits
Service Grounding and Bonding
Switches and Receptacles
Light fixtures
AFCI and GFCI Receptacles
Smoke Detectors
Fireplace and Damper
Indications of Active Water Penetration
Insulation and Ventilation
Garage Doors and Openers
And Much More!
Seller's Inspection:
Sellers are becoming more and more aware of the advantages of getting an inspection before they list their house. Here are just a few reasons why it is a good idea.
You can advertise as MoveInCertified to increase foot traffic.
You can have me, a certified InterNACHI inspector, do the inspection rather than be at the mercy of the buyer's choice of inspector.
You can schedule the inspection with me at your convenience.
I might be able to alert you to any items of immediate personal concern, such as active termite infestation.
You can assist me during the inspection, something normally not done during a buyer's inspection.
You can correct any misstatements in your inspection report before I generate it.
The report can help you realistically price your home if problems exist.
The report can help you substantiate a higher asking price if problems don't exist or have been corrected.
My report will reveal problems ahead of time which:

might make your home show better.
gives you time to make repairs and shop for competitive contractors.
permits you to attach repair estimates or paid invoices to the inspection report.
removes over-inflated buyer procured estimates from any future negotiations.

My report might alert you to any immediate safety issues found, before agents and visitors tour the home.
My report provides a third-party, unbiased opinion to offer to your potential buyers.
A seller inspection permits a clean home inspection report to be used as a marketing tool.
A seller inspection is the ultimate gesture in forthrightness on your part.
My report might relieve prospective buyer's unfounded suspicions, before they walk away from your home.
A seller inspection lightens negotiations and 11th-hour renegotiations.
My report might encourage your buyer to waive the inspection contingency.
Your deal is less likely to fall apart the way they often do when a buyer's inspection unexpectedly reveals a problem, last minute.
My report provides you with full-disclosure protection from future legal claims.
Builder's Warranty Inspection:
When you buy a new home the builder typically gives you a one year warranty. After that year is up then all costs to repair your home are yours. Don't let your warranty go by and end up paying for something the builder should rightly pay.